Top Five Best Welding Helmets | Reviews & Buying Guidelines 2021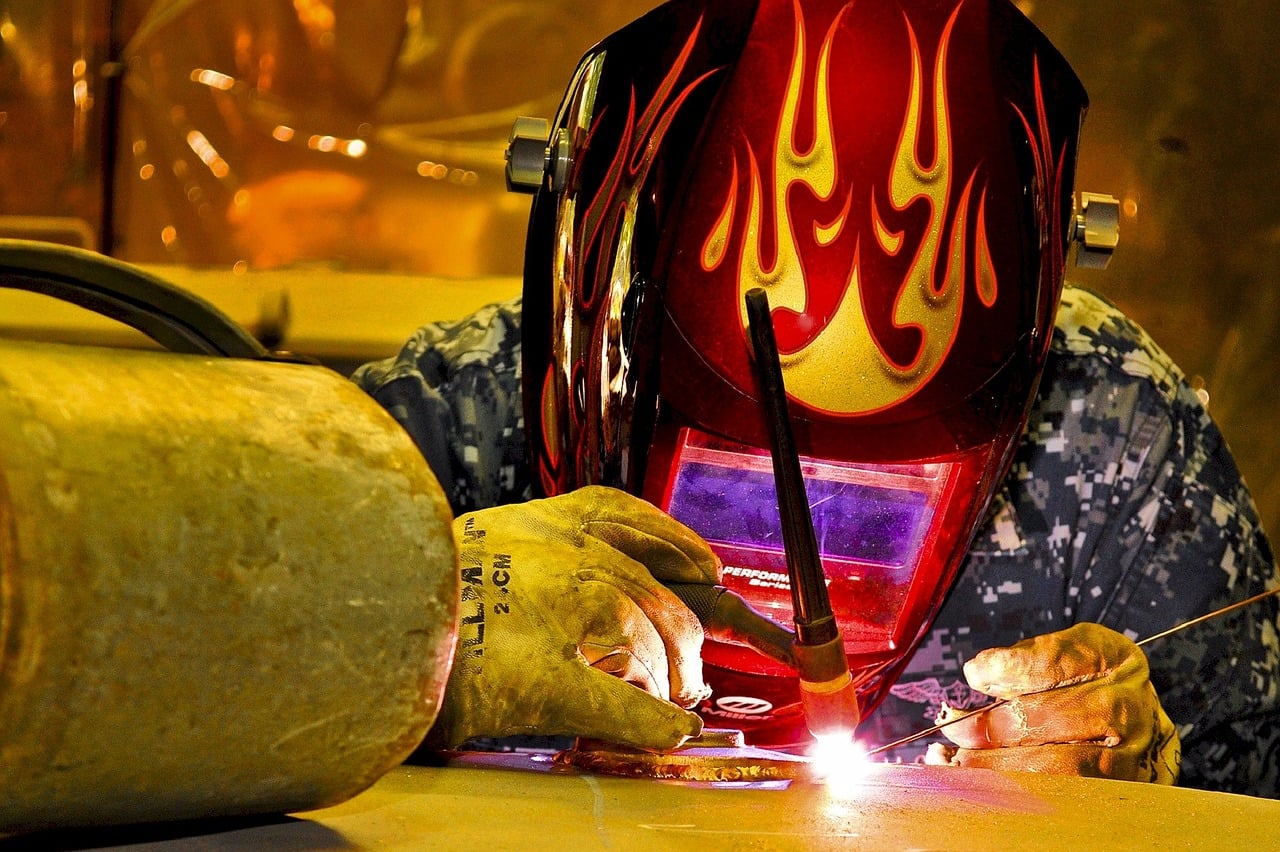 Are you a professional welder or hobbyist? Are you looking for a protection gear to protect yourself from dangers involved in using welding machine? Welding is a dangerous work as it involves electrical sparks and heat. Welding helmet protects you from dangerous sparks and heat evolve during the usage of welding machine. Here is a detailed information about welding helmets, the  buying guide and top five Best welding helmets.
Top 5 Best Welding Helmet Comparison Chart
What is a Welding helmet?
A welding helmet is a headgear designed to protect eyes, face, and neck from ultraviolet light, electrical sparks, heat, flash burn while performing welding. Welding is a process of using electricity to produce heat and craft metals. In the presence electrical and thermal conductivity, a huge amount of heat and light is produced.

To protect the person performing welding from all these effects, Welding helmet is invented in the year of 1937 by Willson Products. Later on, technology improved welding helmets by developing modern features and changed the model of the welding helmet. While buying a welding helmet you have to take note of numerous points as it is about your protection. Here is a welding helmet buying guide that perfectly explains ideal features of best welding helmets.
Best Welding Helmets Buying Guide:
Having a good idea about what you are going to buy is always the best idea. Here are important features to check before buying a perfect welding helmet:
Lens Shades: Welding helmets come with two types of lens which are Fixed shades and variable shades. Fixed shade lens are the type of lens which are stable and remains in constant color. Variable shade lens changes color depending upon the heat, rays, and type of metal user is working on. Variable shade lens adjusts brightness, darkness by changing the shade which helps the user to work safely.

Viewing Area: A viewing area is the front part of welding helmet through which Welder can look at the welding work. The viewing area is a crucial concept because if it is too small, the work can be hard and takes more time. Industrial welders always use welding helmets with larger viewing are. A standard viewing area ranges from five inches to eight inches. Depending upon your welding time and type of welding select a welding helmet with best viewing area.
Weight: As Welding helmets sit around your head all time, select a helmet with less weight. If the weight is more, it can cause huge discomfort and may cause few neck disorders. If you are working for very long hours, go for light weight helmet which is best for you. Also, check for helmet's size which perfectly fits around your head and neck. If it is small or large, it may cause your skin exposed to UV rays which cause harm. So always go for the one which fits you better and protect you best.
Sensors: Sensors in welding helmets protect the welder from rays. The number of sensors, the more protection. An ideal number of sensors is four, but it is hard to find a welding helmet with four sensors causes many companies only design welding helmets with just two sensors. Two sensors can protect you better. If the user has to work for a longer time, four sensors welding helmet suits him best.
Source of Power: Latest Welding helmets are designed to work with two types of power source. Battery and solar powered welding helmets are two types which work with battery and solar power. Lithium batteries are used in battery powered welding helmets and this kind of welding helmets always needs to be charged before usage. Solar powered helmets charge by own and need less care than battery powered welding helmets.
Auto darkening or passive helmet: This is a feature which is important for professionals and beginners. Auto darkening welding helmets are made of filter lenses which give dark and well-coated protection and high sensitivity to UV radiations and Infrared rays. The auto lens gives user perfect protection and quality work. Passive welding helmets are simple and easy to work with. These helmets come with ten different shades and preferable for beginners. Depending upon your experience, select the type of lens you are going to use.
Lens switching speed: Welding helmets are designed with different types of lens. When the torch is on, the lens automatically switches depending upon the sensors. Lens switching speed is the time taken by helmet to switch the mode of the lens from natural light to darkened shade which resists torch. Welding helmet needs to be very fast in this lens switching because the fast the lens changed the more protected you are from harmful rays. Beginner level lenses change to darker shade within 1/3600 of a second, professional level lenses darkens within 1/16000 of a second. Depending upon the speed, the cost of welding helmet increases. Welding helmets with more switching speed are very protective and save your time and work.
Quality: Quality is very important aspect about welding helmets. Never buy a welding helmet which is less in quality. Top quality welding helmets are made of good material and can ensure your protection from burns and harmful rays.
Protection: Welding process involves in heating different types of metals. During this huge amount of heat, UV rays are produced. Depending upon the metal you are working, rays and heat may become more dangerous. While selecting a welding helmet, check if it is certified for all safety care and passed all ideal guidelines.
Top Five Welding Helmets:
Jackson Welding Helmet comes on the top of our list because of its ideal features. This Welding Helmet is manufactured by Jackson, a branded company. Jackson welding helmet is available in two different sizes. One size is 9-5/8 inches x 9-3/4 inches x 12-1/4 inches and another one is of 12.18 inches x 9.5 inches x 9.375 inches. The user can select one size depending upon needs. This welding helmet is manufactured with quality features and versatile design.
Features:
Jackson Welding helmet is built with Auto darkening lens with optical clarity, angular dependence, diffusion of light, a variation of luminous transmittance and received EN379 best ratings.
Suitable for MIG, TIG and arc welding-Switching Speed.
0.15 microseconds.
Material used in manufacturing is high
Density plastic
Variable shade range 9 to 13 shades to protect User's eyes from radiant energy.
Lightweight, which reduces stress and strain on user's head.
Safety of this helmet is ANSI/ISEA Z87.1+2010 standard.
Comes with three headgear adjustments.
Pros
EN379 best ratings which proved this is top welding helmet.
Superior the angle of view.
Very fast switching speed.
Light in the weight.
Aerodynamic curved front cover plate which protects user's Head and neck.
Sensitivity and delay adjustments are available.
Cons
Adjustment straps are slippery.
---
Lincoln electric welding Helmet comes in the second position of our list. Product dimensions are 12.5 x 10.5 x 10.5 inches and weigh 3.4 pounds.
Features:
Color: Black-Designed with 4C Lens Technology.
Power source is battery.
Different shades are available.
Pros
Clear visibility
4C Lens technology enables to see things before darkening and after darkening
More durability
Cons
Technical issues with hood.
---
Antra Welding Helmet comes in the third position of our list. Product dimensions are 9 x 9 x 12 inches and weigh 1 pounds. Unique specification of this helmet is it is Solar Powered and have Auto Darkening lens.
Features:​
Suitable For TIG MIG MMA-Power source is Solar energy
Consists of Plasma Applications with Grinding Feature
Designed with Large Viewing Size 3.86"X1.73" -Cheater and Magnifying Lens Design
Consists of four sensors-Step
less Delay
Sensitivity Knob Adjustable
Designed by the latest technology and have a specification of automatic power ON/OFF.
Sensitivity and delay settings can be adjusted by a knob
UV/IR Protection approved -Consists of Permanent Shade DIN16
Lens switching speed is 0.00004 or 1/25,000 Seconds
Material used in manufacturing is High-quality Polyamide Nylon
Pros
Four sensors are available
Solar powered and easy to use-High quality
Best protection
Cons
Sensitivity may not work few times
---
Miller welding Helmet comes in the top fourth position of this list. Miller Welding Helmet is manufactured by Miller Electric Helmet. The power source of this helmet is a lithium battery.
Features:​
The material used to built is Ratchet Material
Lens switching speed is 1/10, 000 sec.
Sensitivity and Delay Control 0.10 to 1.0 sec.
2 AAA Batteries.
Magnifying Lens Holder-Viewing Area: 5-1/5 SQ. in.
Battery Life: 2000 hr.
Standards of this helmet is ANSI Z87.1+2010
Auto Darkening Welding Helmet-Consists of two sensors
Pros
Viewing area is large which is suitable for industrial works
Longer battery life
Branded & quality product
Crystal clear clarity
Cons
Less number of Sensors
Not for beginners.
---
Speedglas welding helmet comes in the fifth position of our list. Product dimensions are 12 x 11 x 11 inches and weigh 2.1 pounds. Manufactured by 3M company, this welding helmet is designed with innovative technology and have latest features.
Features:​
Designed with Auto darkening filter
Switching speed is just .1 milliseconds after welding arc is detected
Protection from ultraviolet (UV) and infrared (IR) radiation
Optical quality
Side windows designed with dark shade 5 filters for peripheral field of view
Two adjustable crown straps which provide more stability and weight distribution.
Pros
Versatile Design-Peripheral view is available
Fastest switching speed
Wider front view
Consists of side windows
Cons
Technical issues with the lens.
How to See Clearly Through Your Welding Helmet (Must Watch The Video)
Final Verdict:
Here are the top five best welding helmets and everything you need to know before buying the one.Do your own research before buying a good welding helmet. This is all about your protection from dangerous rays. Based on your needs buy a quality welding helmet. Investing for protection is always a good idea. There are many types of welding helmets. In our list of top five best welding helmets, every helmet has ideal features. Select one and buy a good one.