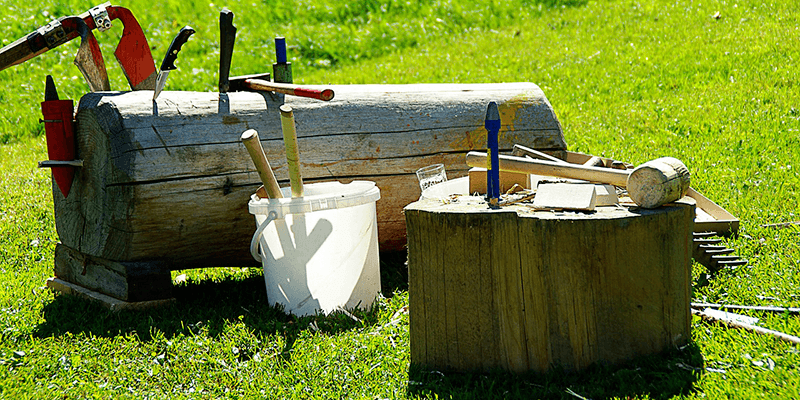 Top 10 Woodworking Tools ( Every Woodworker Should Have )
As technology is growing with each passing day, loads of new inventions are making life and work easier in varied fields. Similar is the case for professional wood workers. As time is passing evolution of new power tools of wood working are now replacing hand tools that needs a lot of physical exertion from user's end. Not only these wood working tools prove to be useful but having collection of some important tools gives wood workers versatility. In order to become a professional wood worker it is not necessary that you should purchase a complete list of all the power wood working tools available in market but as you begin this job you can do well by getting started with buying some important tools from this Top 10 Woodworking Tools list that are not really expensive and are convenient to use.
Top 10 Woodworking Tools:
In this page we are sharing details of some of the top 10 wood working tools that a serious professional wood worker must grab in order to enjoy working on varied interesting projects with ease.
1. Table Saw:
A table saw is a must tool to have for a professional wood worker. This one is a powerful handheld tool that is easy to use. Every wood working garage must have this tool and it would work as a centerpiece for varied wood working projects. Learning to use a table saw is not difficult. It has simple functionality. This tool includes a circular saw blade driven with assistance of an electrical motor. The blade is located in the middle of its table that projects up and down cutting the work pieces accurately and quick with the aid of a fence support. A table saw gives you versatile cuts and apart from that can groove, join and square cut pieces.
Set a particular budget as there will be variety of table saws in market offering varied features and uses. Select one that suits your budget and requirements well. You would find some features common in all table saws but some high-end tools would have additional features and improved built. See more: table saw reviews
2. Circular Saw:
Circular saw is another versatile wood working tool that gives you flexible functionality with a basic accuracy level. While being used with a clamp-on straight-edge, this tool is capable of offering impressive accuracy similar to what you can get with a table saw. A circular saw can perform really well for cutting sheets like fiberboard of medium density, plywood etc. As you begin wood working, a circular would be most useful tool for your workshop. Circular saws come in different sizes yet these are usually portable and simple to set up powerful tools.
3. Power Drill:
Another powerful must have tool for a wood working shop is power drill that enables you to quickly and easily drill through varied surfaces. This tool not only proves useful for wood working but it can also work well on metals. Power drills offer versatile functionality and are simple and flexible to use. You can today find many different types and you can choose one that suits your requirement of projects. Power drills are most commonly used for drilling and screwing however you can perform a variety of other jobs with this portable tool.
4. Wood Router:
A good quality wood router is one of the best things to have in your arsenal of wood working tools. With many routers available in market today, you have the choice to get either one with a stationary base or a plunge base wood router. For a beginner even a stationary base wood router would be capable of handling most of the jobs. When purchasing a wood router, it is important to notice that it should be at least 2 HP power variable speed control router with easy setup and installation of router bit for convenient use.
5. Jigsaw:
Cutting wood in curved circular and other customized shapes is easier with the use of a jigsaw. This tool is another important tool for wood workers that give them flexibility of making random curves with ease and with complete controllability. Usually this tool offers you easy and quick change of blades making it capable of using with different materials.
6. Random Orbital Sander:
This one is another top wood working powerful tools that gives convenience of being handheld for wood workers. It is considered a basic important tool that a beginner as well as pro wood worker must have. This tool gives you performance similar to a belt sander but with improved quality finish. It is capable of using simple sandpaper and is also low priced tool in comparison to other similar wood working tools.
7. Compound Miter Saw:
Now that you have reached this level of the list of top wood working tools, you may have purchased table saw already and now is the time to get a compound miter saw that is quicker way of cutting with accuracy. This one is not expensive yet performance is up to the mark. This tool is a miter saw with suspended rollers in a metal guide that enables wood workers to make accurate cross cuts while saving a lot of time of user.
8. Drill Press:
A drill press is a must to have tool for wood workers who need to make holes and cuts with accuracy. This one is a stand-alone configured fixed drill that is capable of making a number of holes and cuts really quick. You can attain efficiency with quicker tool change and high accuracy of cuts. The table that it is enclosed to can be easily adjusted in varied angular and vertical positions for versatility and ease of use. Get Details From Drill Press Reviews
9. Portable Belt Sander:
This tool works well for removing wood surface from a large space that is flat. Any excess of wood can be easily ripped with the use of portable belt sander. When opting for this tool, you will find different belt sizes including 3 x 18, 3 x 21, 3 x 24and 4 x 24 inches. The larger the size of belt you select, it would be easier for you to control your work and job will be completed in less time consumed.
10. Wood Tool Sharpener:
Any dull blades and tools can be most frustrating thing for any wood worker as a dull tool can damage their work piece and would consume a lot of time for job to be done (that too without desired results and performance). So here comes wood tool sharpener as an important tool in your collection with the help of which you can easily sharpen your tools as and when required.
Conclusion
The list of tools that we have shared here are tools that every wood worker should have and these would prove useful for nearly all your wood working tasks. With the aid of these tools, a wood worker would be able to get the job done quicker and with ease. These tools are handheld, easy to use and are powerful enough to get your work done. So whether you are beginning wood working or are already a professional wood worker, check your collection of tools and ensure that you have all these 10 useful items within your reach.