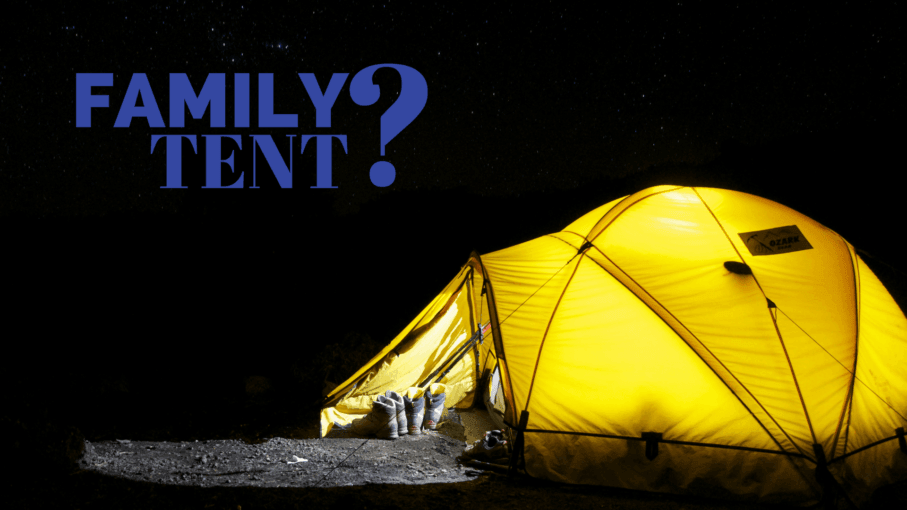 Best Family Tent For Outdoor Camping 2023 | Buyer's Guide and Reviews
Are you planning on taking a group camping trip with your friends or family? Then getting the best family tent should be your priority. With the right tent, you can be sure to be all comfortable throughout the trip, and you will not be worried about unexpected weather changes. I have had several camping experiences, and a perfect tent has always played a significant role for a successful trip.
With the numerous varieties of camping tents in the market today, choosing the best family tent can at times be challenging. Fortunately, you do not have to struggle when shopping for one by considering the following factors on how to choose the best camping tent for family time.
| | | | | | |
| --- | --- | --- | --- | --- | --- |
| | | | | | |
| | | | | | |
| | | | | | |
| | | | 72.1 x 107.99 x 120 inches | | |
| | | | | | |
| | | | | | |
| | | | | | |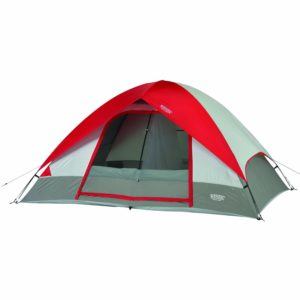 The Wenzel Pine Ridge Tent is another great option for a family camping trip, with strong fiberglass poles and a layout that maximizes floor space and head space. The fly ridge poles allow awnings to cover the front and rear of the tent, protecting the doors from rain and providing a good place to place your muddy shoes at the end of the day.
The durable polyethylene bottom is seamless, preventing water from leaking inside the tent and ruining your gear. While there is a rain fly attached to the tent, it just barely manages to cover all of it, which may be something to keep in mind if you plan on camping in areas that experience heavy rain and it's one of the Best Family Tent Under $150.
In addition, the Pine Ridge tent is fantastic for families who just really enjoy their privacy. The removable curtain can separate the spacious tent into two private "rooms". Another nifty feature is the slot for your flashlight or lamp at the top of the tent, where the light faces a reflective panel and lights up the entire inside.
Two downsides to keep in mind about this tent, though, are the space projections and the zipper. While the tent may be advertised as a five person tent, it may be more reasonable to consider it as a three or four person tent. If your family consists of two adults and two young children, this may be a good size for you, albeit a tad bit tight. If your family is any larger, however, many customers argued that the tent became too crowded at that point. Furthermore, due to the storm prevention design, the zipper requires some concentration to open each time, which could potentially grate on your nerves after some time.
View The Price On Amazon
---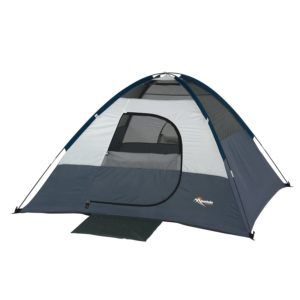 The best small family tent is a popular choice among hikers and light campers. It promises easy set-up with its exclusive "stow-n-go" duffel system, which makes it good for beginners. While the fly frame is meant to make the tent waterproof, it may be a good idea to spray it down with a sealant spray.
The best feature of this tent is its affordability. At just $50 on Amazon, the Twin Peaks tent is not as much of a significant investment, making its benefits all the more sweet. It is better suited for two campers rather than three, but with just two campers, there is enough room left over for movement and storage. The tent weighs in about 7 lbs when rolled up. While this is too heavy for an extended amount of time, it is light enough to hike with for a few hours before setting up. Its easy set-up and cleanup allow it to be rolled up into a manageable size- small enough to attack to a hiking bag with the two attached hooks. During the summer months, the fly frame can be removed to increase ventilation, as the ceiling is mostly a mesh panel.
If you plan on using this tent, it may be a good idea to purchase an additional tarp to place underneath the floor of the tent, as the floor is pretty thin and could easily be roughed up by terrain. Additionally, many users claimed that the tent ran on the shorter side, feeling more like a 6 x 6 than the advertised 7 x 7. However, for the price, this tent would be ideal for smaller family trips.
View The Price On Amazon
---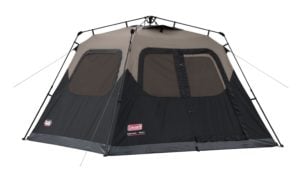 Just how the name implies, the Instant Tent boasts a set-up time of under one minute. This is because the poles are pre-attached to the tent, allowing you to just unfold, extend, and walk right in. This is a major plus for those who either don't want to spend any time setting up or have had difficulties in the past figuring out which pole goes where. Regarding clean up, the tent quickly rolls up like a sleeping bag. The carry bag it comes with is convenient as well; it is larger than the size of the rolled up tent, making for a clean fit.
Just like the Sundome tent, the Instant Tent has the WeatherTec system to keep you dry. However, many customer reviews claim that purchasing a rainfly and spraying sealant over the seams would make the tent better suited for heavy rain. While the WeatherTec system may be adequate for light rain, this tent is better geared towards summer or spring usage. The floor is also made of a thick fabric, protecting the tent from damage caused by foot traffic and rubble on the ground.
The Instant Tent also has a window on every single wall of the tent, which can be opened up to maximize internal ventilation. If you and your family are camping in an area known for stargazing, these windows would be a huge benefit to your overall camping experience.
View The Price On Amazon
---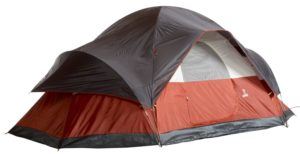 The 8 Person Red Canyon Tent is the largest tent on this list, with dimensions of 17 feet by 10 feet. This tent is perfect for large families who like their person space, or even two families willing to share the same tent. The Best 8 Person Family Tent comes with two dividers, making it possible to transform the tent into three separate rooms. It also comes with a gear net near the ceiling and interior pockets, ideal for extra storage off the ground.
For an affordable price, there is no wonder why this tent is an Amazon best-seller.
Regarding set-up, the tent is not as difficult as one would expect of such a large tent. As per Coleman's style, the directions are attached to the zipper of the bag, and with the color coded poles, set-up takes a maximum of two people.
The best quality family tent is also made with longevity in mind. The polyethylene floor keeps rain out and stands against the typical wear and tear that can be expected from rough terrain. While the four-inch lip at the door could be a hassle when cleaning out the tent, it is an example of good foresight as it prevents rain from entering anywhere in the tent.
Which brings us to the best part about this tent: it is waterproof. Even though the rain fly tends to touch the tent at a couple of points, this tent has been a bestseller because of its capacity to withstand heavy rain. The rain fly and exclusive WeatherTec system live up to Coleman's promise of being waterproof, with no water seeping in even after storms.
View The Price On Amazon
---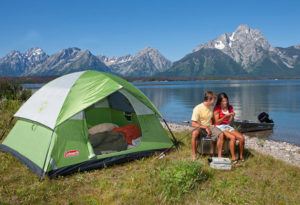 The Coleman Sundome Tent is an ideal tent for camping in areas that witness significant rainfall or heavy winds. The dome structure of the tent prevents water from pooling on the top, and the patented WeatherTec system adds to the tent's promise of keeping you dry. Plus, the waterproof floor and solid fabric wall both protect you from leaky floors, which could ruin your air mattresses and gear. The awning over the opening further shelters you from heavy wind and the rainfly is a valuable bonus. Even if you are not planning on camping in a windy or rainy region, the tent is designed to be well-ventilated- a must in any family camping tent.
Additionally, when you are on vacation with your family, you do not want to be wasting time trying to figure out how to set up your tent. The two-pole Sundome tent promises a set-up time of about ten minutes, and, perhaps one of the best selling points of it, can fit two queen-sized air mattresses inside.
The Sundome also comes with a few nifty features, such as internal pockets to store all your gear and an external opening to run electricity into your tent, if you are so inclined to do so. The tent comes with an attachable internal barrier, in case you want to divide your tent into two "rooms", each with its down door to enter and exit. At a reasonable price, the Sundome tent gives you exactly what you need for a family trip, and then some.
View The Price On Amazon
---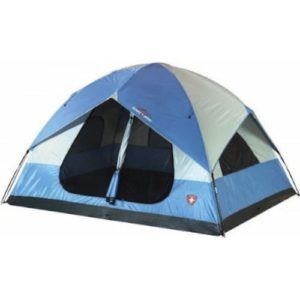 The Suisse Sport Yosemite is a steal for the features it provides, such as a spacious floor plan, durability, and attached rainfly. The attached rainfly can be staked or tied down, and when set up, actually does do a great job protecting from rain. While the rainfly covers the roof, the four other windows provide more than enough ventilation throughout the tent. The nylon taffeta of the tent's walls means this tent may not be the best option for harsh weather camping, but it can hold its own in a downpour.
A few customers mentioned that set-up could be considered complicated for the novice camper since the tent uses pole sleeves instead of clips. However, the bag the tent comes in is spacious enough to hold the rolled up tent, as well as extra stakes and a mallet, which makes transportation of the tent easier.
This is a great family tent as it offers a curtain to divide the tent into two. Plus, even if your family opts out of using the tent, the tent is made into one large room, with enough space for one queen and one twin air mattress, leaving significant space to move around, store luggage, and navigate around one another at night.
A few other bonuses include interior pockets, a net shelf near the ceiling, an opening for an electrical cord, a ceiling loop to hang a lantern.
View The Price On Amazon
---
Best Family Tent Buyer's Guide
1. Cost
This is usually a huge factor for those who are in search for the best family tent. The amount that you spend will be dependent on your budget. However, you should know that buying a cheap tent will cost you more in the long run when it fails and thus the need to get the best family tent.
You will also need to consider the conditions you expect to use the tent in. For instance, if you will be using the tent in extreme conditions such as high winds and snow, spending more money to get the best family tent will help your family avoid the misery that might arise if it fails.
2. Size and height
You also need to figure out the tent size you need. Although the tent producer will give a note of it, this will not suffice as a guiding factor during your purchase of the best family tent. You will need to count the number of kid(s) and pet(s) you have as well as the storage you will need. If you are a family of 4, then the best family tent will be a 5-6 person tent.
Though larger tents are good, they also have some disadvantages. Other than being bulky and heavy, larger tents will take more time to setup and things to fill it up. Thus, it is important that you choose the best family tent that will suit your needs and also try to minimize the overloading.
If your family is going for one night of camping, then it's better to go for a small tent. However, if you will be spending more than two nights or are aware that the area has bad weather, it is better to go with a larger one as these are the best family tent for such conditions.
3. Room Convenient Design
The best family tent will also need to have several rooms which will be based on the age of your kid(s). For instance, if you have babies, one room is ideal since more rooms will cause problems when you need to tend to them. On the other hand, if you have a teenager, then going for 2+ bedrooms divided by a zipper divider is the best family tent.
The design of the best family tent also needs to be attractive and convenient. Going for double doorways can be particularly useful. Should the fly be in use, you can use the vestibules for more storage.
Conclusion
Considering the benefits and drawbacks of each tent and the requirements your family has in terms of your camping preferences, you can now make an educated choice about your Best Family Tent for camping. Depending on the terrain and weather conditions of your camping habits, certain features may be more important to you than others. However, each tent I featured is affordable, durable, easy to set-up, and spacious enough for a family camping trip. Therefore, I highly recommend these six tents to be your short list in your search for the best family tent for your best family trip.